While android watches are quite functional, we are still relatively early in the app development stage where the primary focus is largely on watch faces, and companion apps. Lucky for us, underneath the watch friendly UI, is an almost complete installation of android 7.1.1 or newer depending on the watch.
For this tutorial a ZTE Quartz Smart Watch, but this tutorial can work on nearly all other smart watches running android.
With the steps involved, some may wonder why should we ever side load a smartphone application onto a smart watch? The reason is that there are a wide range of utilitarian functions which the watch can do, but no smart watch specific applications which offer these functions. Furthermore, in some of the cases when the applications become available, they are often of lower quality than the smartphone freeware, all while charging a hefty price for the application, for this reason, I feel it is useful to know how, and to have the option to side load applications when desired.
---
This process requires "ADB debugging" and "Debug over Bluetooth" to be enabled. Furthermore, USB debugging must be enabled on your smartphone.
Enabling "ADB debugging" and "Debug over Bluetooth" on your smart watch:
1: On your smart watch, go to Settings > System > About.
2: Look for the entry labeled "Build number", and then tap it 7+ times; you will see a message appear stating "You are now a developer!".
3: Go back to the main settings menu.
4: Scroll to the bottom of the list, and open the "Developer options" menu.
5: Enable both "ADB debugging", and "Debug over Bluetooth"
Enabling USB debugging on your smartphone:
1: Go to Settings > About phone.
2: Look for the entry labeled "Build number", and then tap it 7+ times; you will see a message appear stating "You are now a developer!".
3: Go back to the main settings menu.
4: Go to "Developer options".
5: Enable "USB debugging".
---
Now that we have ADB enabled on both the smartphone and the smart watch that is paired to it, we can now proceed to getting an ADB shell on the smartwatch.
PS, if you do not have ADB drivers installed on your system, ZTE smartphones will often include those drivers, simple select the "Install driver" option when you connect the phone to your PC, and then run the installer that it provides.
---
Getting ADB shell up and running on your smart watch:
1: Open the "Wear OS" app on your smartphone.
2: Scroll down and click on "Advanced Settings".
3: Enable "Debugging over Bluetooth" (You can disable this later when you are done installing your favorite apps)
4: Make sure the smart watch is connected to the smartphone.
You will also see a notification on the screen of the smart watch indicating that "Debugging over Bluetooth is enabled".
5: Connect your smartphone to your PC via USB.
6: Create a new folder on your PC (to reduce the number of command line entries, I recommend creating a new folder on the root part of drive C; I named mine "apks"). After that, place any apk files you would like to install in that folder. Also REMOVE any spaces and special characters from the apk file names.
7: Press the Windows + R key.
8: Type in CMD and press enter.
9: Navigate to the folder you created (for example if the folder is in the root of drive C then you would enter in without the quotes "cd \" and "cd apks"
10: Enter in the following 3 commands (one at a time).
adb devices
adb forward tcp:4444 localabstract:/adb-hub
adb connect localhost:4444
11: After that, you should see a message appear on the screen of your smart watch. Click on the option that says "Always allow from this computer"
12: Type in "adb devices" again. You should see a new device listed as "local host:4444"
You are now ready to sideload apk files onto your smartwatch.
To sideload an apk onto the smartwatch, use the following format
" adb -e install nameoffile.apk"
Take notice of the "-e", that is important as it directs the command to your smart watch.
---
As an example, I will install a copy of 3C Toolbox onto my smartwatch.
Example installation:
adb -e install 3CToolboxPro.apk
For devices with a round screen, some minor display issues may take place such as a portion of the corner of some apps being cut off, but in cases like that, you can adjust the display scaling to better fit the application on your screen
As we can see, the process is quite slow, thus it can take a while to install large applications such as the 13.57MB file that I installed, but it does work reliably.
Some smartphone applications will not be fully functional, especially if any of their features checks for access to root directories such as the example application which I installed.
Here is a video that should give some idea of how smartphone applications will render on a smart watch.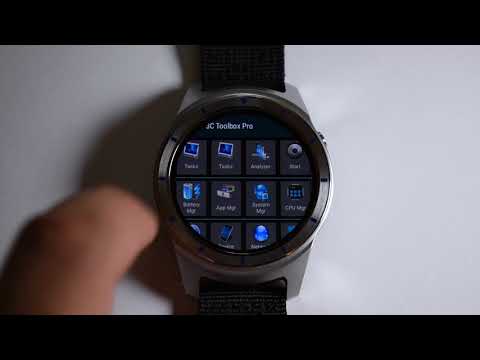 Overall, some applications will be 100% functional, especially ones that do not rely on network connectivity, though some more advanced tools that rely heavily of functions and APIs unique to smartphones instead of smart watches, then they may not be fully functional.
The goal here is to have the choice to run a smartphone app that may often be free and better functioning compared to some smartwatch specific apps. Since these devices are seen more as premium devices, many developers are quicker to want to charge a steep price for a smart watch version of a traditionally free smartphone application. If you have a well liked app that would be useful on your smart watch, then it could be useful to test it out and see if it can work properly on the smart watch.
PS, a great way to get access to the APK files on your android device, is to use ZTE's backup utility, WeShare. Since it makes APK files for each selected application you want to back up, those files can be directly loaded to a smart watch.